Philosophy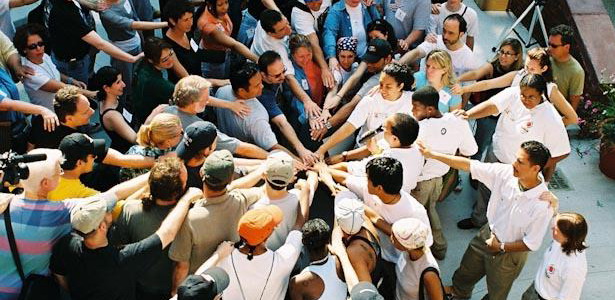 The motivation for undertaking the task of Project Ubuntu is rooted in the philosophy that defines it. The project team will be driven to inspire and support the many kind-hearted individuals with whom we partner over the course of a year, and we'll be spurred on by an unwavering belief in the worthiness of the work our partners pursue.
To be sure, it's not simply a feel-good story that we take onto the road. For every smile received from a life touched, there is a palpable bitterness communicated from the neglect we, as a society, are guilty of. For all the heartwarming inspiration that comes from doing "good work" the reality of social injustice is that its roots run deep. Social injustice must not be unpreferred; it must be abhorred.
In every corner of the nation and the world, we shortchange youngsters and adults alike, whether it's by excluding them from legal rights, ignoring their need for relevant resources, or exaggerating difference and isolating ourselves from one another. One child drops out of high school in America every 26 seconds. That's an undeniable, deeply undesirable outcome of our united community failing to educate its own children.
In the simplest terms possible, it's infuriating.
Yet outrage can be a powerful vehicle for progress, and my energy source is a windmill harnessing incredulity. One of the most important lessons I've learned in life thus far is that anger can be destructive, or it can be channeled in a productive way. This trip aims to direct that passion toward a campaign that will embody the ubuntu philosophy – we are a collective community and responsible for enabling one another to thrive as humans.
To witness a person putting aside differences, fear and greed in order to mentor a child, or sponsor an inclusive event, or stand up for the rights of other individuals is to witness love overcoming injustice. People we'll partner with throughout the project are living proof of Dr. Martin Luther King Jr.'s assertion that "the arc of the moral universe is long, but it bends toward justice."
In the shadow of the Civil Rights movement he helped lead, my generation has seen a world gripped by different issues of inequality, violent conflict and poverty. But the stories of our parents are fresh in our minds, and it inspires confidence for further success.
Every week of this journey will reveal examples of why that confidence is merited: There are so many people in our country who dedicate themselves to others, and there are so many ways to make a positive impact. It is our goal to unite these admirable leaders in their struggle and to spark hordes of further individuals to recognize the beauty of helping transcend categories like race, gender and class in order to build what Dr. King called "the beloved community."